Books
Edie's Ski Book! Now available in print, on Kindle and on all e-readers.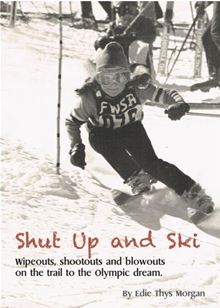 Shut Up and Ski is a fictionalized version of the real challenges that faced the US Women's ski team in the year leading up to the 1988 Olympics from the perspective of not-so-brave rookie downhiller Olivia Sharp. This make or break year takes Olivia and her band of strong-willed yet woefully inexperienced teammates from Mt. Hood's snowcapped cindercone, to a searing hot stadium in Utah, from icicle-filled vans to plush corporate jets, from steep chutes in the Andes to icy glaciers in Switzerland and finally to a wind-scoured trailer park outside of Calgary.
It is aimed at athletes, coaches, Olympic fans, skiers, young adults and the parents hoping to understand them. Read what Brave Ski Mom had to say in her book review here.
————————————————————————————————————–